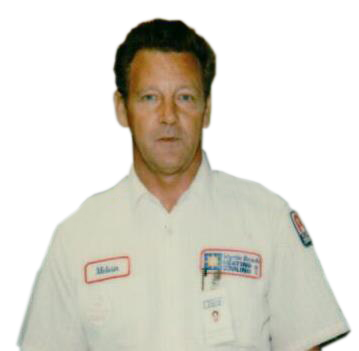 My father actually hired Melvin Proffitt, long before I joined the family business. He had moved here from West Virginia with his wife Barbara back in the day, and came in to see my dad about work. And here was this guy with great HVAC technical experience, and he had that old-fashioned kindness and politeness about him. So of course my dad hired him right away.
MEETING A MENTOR
I'll never forget as a young man, that very first day I came to work for my father I went out on my first ride-along job to a customer's house.
Dad sent me with Melvin.
It was a duct cleaning job, a really tough one, with a filthy crawl space that was cramped and hot and I thought, MAN! Is this what it's gonna be like every day!? But the whole time, Melvin just kept teaching me things as we went along. It was hard work that day but he never once complained. He didn't frown on the job, he just said "okay Richie, let's just get this thing done. Let's get under there and together, we'll get this thing clean!"
That was my first experience working with Melvin, but not the last. We worked together for many years, and he became a beloved mentor to me.
A SERVANT'S HEART
To put it plainly: Melvin loved to fix things for people. And he was humble about the work he did. He wanted to do things the RIGHT way. He wanted to make sure that the family he was serving had heat or air conditioning by the time he left the house. He truly had a servant's heart toward people.
The truth is, Melvin was the kind of technician that my grandfather Sammy was. I think that's why he's so special to me. That's exactly how my grandfather was.
And that was Melvin.
MELVIN PROFFITT LIVES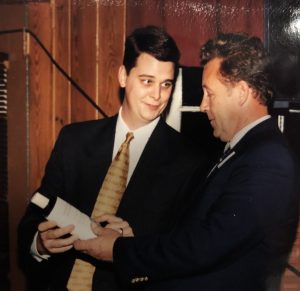 So, I made a promise to Barbara after Melvin passed. I said "Y'know Melvin will always be alive in this business. Because we're going to make sure we don't forget about Melvin.
So I turned our Employee Of The Year award into the Melvin Proffitt Award, And my staff started using the word, "Melvinness" to describe how we treat people.
Now, over ten years later, when we go out to the client's house, we always take a little Melvinness with us, and try to show our clients a little Melvinness. It helps remind us that a humble servant's heart is what you bring with you when you come to work here, because those are things you can't TEACH.
You can't train somebody to have Humility.
You can't teach someone to Care.
You can't show someone how to feel Empathy toward their customer's needs.
You can't give somebody the kind of Character that Melvin had.
But I can tell you this: I know I'm a better person because I knew Melvin. And the people in our business on this Team are far better at what we do, because he was here. That is the IMPACT that one truly good man had.
In short, Melvin is sorely and surely missed. But he's really not gone.
Melvin lives on, through all our actions, every day.
I want some MELVINNESS