My Dad learned everything he knew about heating and air conditioning from his dad, Sammy. To me, my Grandpa and my Dad were HEROES; But I was just a kid in 1978, the morning I woke up and they told me grandpa had died…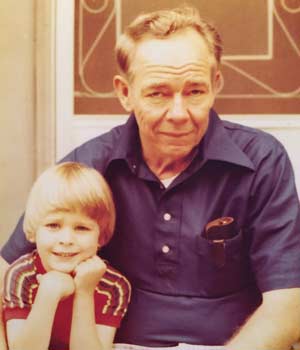 Sammy was gone.
My Dad sat alone in the old workshop, finishing repairing an window unit Sammy'd been working on. Dad finished it.
We climbed into Sammy's old faded red, white and blue service truck, and Dad said, "Richie? We're gonna show Grandpa what we can DO, right?"
"RIGHT."
Well we almost starved that first winter. We'd made just 98 bucks in February. But Mom said, "Just hold on, a little longer." So Mom made flyers and we went door to door, and the summer of '79 was HOT so calls started trickling in. And, they have just kept on comin'…
But in the slower times, like right now, Dad always offered folks what he called "The Greatest System Replacement Package On The Planet" (He also called it the "Keep My Guys WORKIN' Package"). So now, I'm offering this deal to YOU.
Just call us at One Hour now and I promise, you WILL receive the greatest deal that EXISTS on a new heating and air system. It's a family tradition!
Ready for a new heating and air system? Yes? EXCELLENT!
Well here's what you get:
FREE 10–Year Parts and Labor Warranty
This costs me around $468, but we actually purchase the 10-year labor warranty from the manufacturer which is backed by a third-party insurance company. So YOU are completely covered in the event of a repair down the road, but it also insures WE get paid for our labor in the event of a needed repair.  This one is a win-win! It's a no brainer really.
FREE 5" High Efficiency Air Filter
I sell this filter system for $479 all day long, but we're already there installing your new system so it's not really costing me any extra labor. So again we take on a little more cost to do the job and you save hundreds of $$. Another win-win!
 FREE Air Duct Cleaning
And this is a REAL complete duct system cleaning; We normally charge about $600 for this (depending on the size of your system), so you save $600. So yes I give up some money, but at the end of the day I see this as a win-win too, because my guys remain happily WORKING during the slow season.
Magical FINANCING
I usually select our most attractive financing options from the banks (like reduced APR, or NO payments for 18 months, or ridiculously low monthly payments). We have several options, but the bottom line is: I can get most of our clients financed for a new system without you putting any money down and you have a monthly payment that isn't painful.  Not everyone has the money to replace their old clunker just lying around, so we give you all your options and you pick what's right for YOU. So this is a win-win-win here.
But you still want a great PRICE, right?
Not bragging here, but because we are among the Top 5 largest One Hour franchises in America, I get the lowest equipment pricing available from our manufacturer. Also, because of our large volume they send me a huge rebate check. We've qualified for this since 2015 and since then I have been steadily lowering the price on this seasonal system replacement deal, basically passing the rebate on to our clients.
 Pick a system, any system!
Not just top tier systems. ANY system. Doesn't matter if you only need a new outdoor unit or just an indoor unit. Doesn't matter if you need a package heat pump for a mobile home, a condo unit, or a new compete system. Even if you need more than one system. It doesn't matter what size you buy or the efficiency rating (a 14 SEER all the way up to 20 SEER, your choice!). We'll give you upfront, straightforward pricing on ALL of them.
The TIME is short
Like I said I'm only offering this absurd deal until it gets really cold for more than just a day or two and our business picks back up. So call me now and we'll look at what you need and what you want, and give you the absolute BEST value for your dollar, delivered and GUARANTEED.
Thank you for reading this long-winded message. I hope you will be among the few who will benefit from it!  Just call for a free precise quote, no strings attached, at 843-448-6867.
Warmest Regards,
Richie Drew
Owner, One Hour Heating & Air Conditioning
P.S. If you need to replace your old HVAC system this will be the lowest price we offer all year long plus you will get over $1,547 in Additional Savings on the duct cleaning, 10 year warranty, & High Efficiency Filter.  Plus you can take advantage of our amazing financing options.  Plus, I will personally guarantee you the lowest cost in our market for all of this value.
P.P.S  My guys can only install about 28 new systems per week, so the sooner you book this install, the sooner we can get YOUR new HVAC system professionally installed (along with all these free extras and crazy benefits!)