AC Maintenance
Most people don't realize HVAC systems actually need regular AC system rejuvenation. But they do! You would NEVER drive a car 100K miles without changing the oil, would you?
The problem is, most so called "AC Tune Ups" are done badly.  Some guys just hose off the coils and throw in a filter and call it "tuned up."
That's why we don't call what WE do a "tune up." It's not a regular old tune up. What we offer is a complete rejuvenation of your air conditioning system.
Our System Rejuvenation:
extends the life of your AC system
reduces your electric bills
guarantees your system won't break down all summer! If it does, we'll return and repair your unit, for FREE.
You'll repair it…for free?
It's an over-the-top guarantee, but not crazy. We're doing this because we know our System Rejuvenation WORKS: it will extend the life of your unit, which will use much less energy to cool your home, which in turn will save you money every month.
And we further believe when you experience the skilled excellence and real heart we put into our maintenance service, you'll want us to be YOUR heating and air guys forever. This is a win-win!
Here's what we do: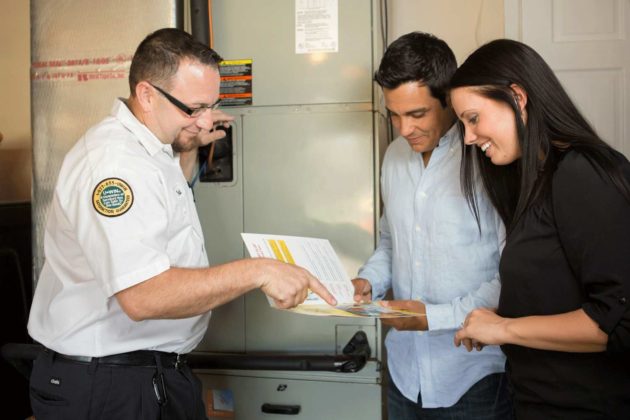 We professionally clean all the baked-on plaque from the coils in your system, so it'll use less energy and cool more quickly.
We install a Crud Buster in your condensate pan to eliminate odors and stops drain line clogs before they happen.
We lubricate all moving parts and install a new air filter.
We conduct a 47-point diagnostic including checking Freon levels and all operating temperaturee.
We install a new battery in your thermostat.
THEN we recalibrate your entire system back to factory fresh specifications.
If we find any component that is broken or worn out we'll show you, and you can decide if you'd like us to fix it.
If you don't want us to repair it, no problem! But we're not gonna guarantee or pretend that a system rejuvenation will fix your problem.
If you DO want us to repair it, we'll give you a 15% discount on the repair and we'll guarantee your repaired and rejuvenated unit for a whole year!
THAT my friends is excellence, and it comes from the heart:  We Believe we exist to make your life better by improving the comfort of your home (and reducing your energy bills).
An Air conditioner rejuvenation is the ounce of prevention that's worth a pound of cure.
If you'd like our miraculous $127 AC System Rejuvenation
just contact us using any method on this page
…and prepare to be amazed.
 Why so little for a Complete System Rejuvenation?
We believe in giving our customers much MORE than what they pay for. So we're offering you the same bill reducing, life-extending heater or air conditioner rejuvenation we give our Comfort Club members twice a year for just $19.95/mo! (It pays to be FAMILY).