A working heating and air conditioning system is critical for residents of Conway, SC. Summer temperatures regularly reach 90-degrees and the humidity makes the air feel oppressive. It can be an emergency when an air conditioner breaks, especially for residents who are more susceptible to heat-related illness. Residents should establish Conway ac service with a heating, ventilation, and air conditioning (HVAC) company that can repair air conditioning & heating system fast. 
When searching for an HVAC company, it can help to know what to expect when making the call and what services the company offers. Below is an overview of the heating and air conditioning services available in Conway, SC from One Hour Heating & Air Conditioning.
Conway HVAC Services
What to Expect with Conway AC Services

Most homeowners run on a tight schedule and fitting in air conditioner repairs is a challenge. One Hour Heating & Air Conditioning respects our customers' need for flexibility and works around the customers' busy lives. HVAC Repair technicians understand they are entering their customer's safe space and take every measure to ensure their customers feel comfortable and secure. We train their employees to work under the following principles:
Flexibility
Homeowners who schedule HVAC technicians to service their heating and air conditioning systems often have to make special arrangements to work it into their schedule. They may have to move appointments or miss work to be there when the HVAC technician arrives, which could even cost them their paid time off. One Hour Heating & Air Conditioning knows that we need to be available for our customers. We even offer our customers after-hours appointment times.
Honesty
One of the most upsetting things about calling a professional to repair or replace equipment in a home is being forced to pay a higher price than what was quoted. We always show our customers all of their options and the associated costs before doing any work. They only have to pay for the work that they initially agreed to have done. 
Punctuality
Many service companies do not require their technicians to pinpoint a time for their arrival, even telling their customers that they may arrive at any point within an eight-hour window. One Hour Heating & Air Conditioning will never put our customers through such a frustrating experience. Homeowners should expect us to arrive on time, typically within a one-hour timeframe. 
Discount Loyalty Programs
Most residents of Conway, SC have an air conditioning system, and that system needs to be maintained regularly to keep it working properly. We at One Hour Heating & Air Conditioning understand our customers' needs and offer them our discount loyalty program, the Comfort Club. For a reasonable fee, homeowners will receive the following Conway ac services:

Priority service

Annual tune-ups to their HVAC system

Discounts on diagnostic and repair fees

Discounts on a

new heating and AC system

Same-day appoints

Multiple membership tiers with additional benefits
Conway AC Services Offered
We offer a range of heating, ventilation, and air conditioning services to help residents of Conway, SC keep their home comfortable all year.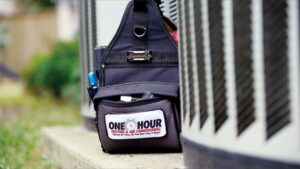 Heating
HVAC systems need to be maintained regularly to avoid costly repairs. Annual tune-ups fix minor issues before they grow into major ones and increase the lifespan of the system. Additionally, keeping the HVAC unit in excellent shape reduces energy costs. 
Residents of Conway, SC can keep their heating system running smoothly with a complete heating system revivalization, which includes the following Conway ac services:

A 52-point system check which includes testing the defrost cycle, testing the operating pressures, testing the effectiveness of the electric heat, measuring the Freon level in the unit, identifying any leaks in the ductwork, and more. 

Cleaning and lubricating all elements and moving parts

Testing for malfunctions in the safety sensors

Replacing batteries in the thermostat, smoke detectors, and carbon monoxide detectors

Cleaning out debris and build-up in the dryer vent

A complete system recalibration
Air Conditioning
Conway, SC is warm for most of the year which makes air conditioning a necessity for homeowners. Air conditioning maintenance is essential for a healthy system. To keep residents comfortable in their home, One Hour Heating & Air Conditioning provides the following air conditioning services:
System Maintenance and Repair
We will provide our customers with a complete AC system revivalization that resembles what is included with the heating system revitalization. This service helps homeowners keep the costs of repairs low and ensures they always have a working air conditioner during the hottest times of the year.
New System Installation
Homeowners often think they need a new air conditioner when their unit stops working, but that may not be true. Before making any major decisions, they should call One Hour Heating & Air Conditioning for a free inspection, especially if they want a second opinion. If a new air conditioning system is required, our HVAC technicians will install any major air conditioning brand of equipment.
When homeowners are shopping for a new air conditioning system, it is essential that they inquire about the most efficient models available. One Hour Heating and Air Conditioning can offer homeowners an 18 SEER system for a 14 SEER price, saving them a significant amount of money. SEER ratings show how energy efficient a system is, with the higher number being more efficient than the lower number. 
Mini-Split AC Installation
Many homeowners have small sheds or garages attached to their property that are not a part of the home's heating and air conditioning system. For these structures, One Hour Heating & Air Conditioning in Conway, SC offers Mini-Split AC Installation. Mini-Split Air Conditioners are small, quiet, energy-efficient, and do not require any ductwork, making them a low-cost option for small-space air conditioning. 
Ventilation
Indoor air quality is often far worse than it is outdoors. We can help keep our customers' air clean and safe with the following services:
Air Quality Testing
Homeowners can expect us to test the air for pollutants and airflow issues. If necessary, we can make suggestions on how to fix any issues, ensuring the air indoors is safe for residents.
Duct Maintenance and Repair
Bacteria, viruses, dust, and debris can be circulated throughout a house via the ductwork. We can clean ducts without using the traditional sweeper method, which can kick these harmful pollutants back up into the air. We use safe duct cleaning agents and modern equipment to deep clean the ductwork while inspecting the ducts for damages and making repairs as needed. This reduces the number of contaminants in a person's home and ensures the air conditioner is cooling their house, not their attic. 
Aeroseal Duct Sealing
The most common way to seal the ducts in a home is by applying duct tape and masking paste to the accessible areas. Unfortunately for many homeowners, this method is ineffective and leaves many spots unprotected. Instead, One Hour Heating & Air Conditioning performs Aeroseal Duct Sealing. Aeroseal significantly reduces leaks in the ductwork by working from the inside out to penetrate hard-to-reach areas that traditional methods miss.
In the blazing summer heat, nothing is more important in Conway, SC than a working air conditioner. Homeowners need to regularly maintain their air conditioning system and take the steps to have it inspected and repaired if needed. Book an appointment online with One Hour Heating and Air Conditioning or call now for a free consultation.