One Hour Heating and Air Conditioning provides professional services and products for our customers in the Calabash area. We know that maintaining the Calabash ac services and heating inside the home is vitally important to the health and comfort of our customers, and we are dedicated to providing the best services at prices our customers can afford. 
Heating and Air Conditioning in Calabash
Calabash, NC has a beautiful temperate climate. However, the days can get warm in the summer and cold and rainy in the winter. When heating and cooling systems are not working properly, a home can quickly turn from an oasis into a space that is anything but comfortable. Therefore, every homeowner in Calabash should have a trusted HVAC service provider on hand to keep their systems working at optimal levels. 
Calabash AC Services and Products
We pride ourselves in providing the very best services and the best products for our loyal customers. Here are the services that are available in the Calabash area. 
Calabash AC and Heating Services
Air Conditioning and Heating Repair
Regardless of the unit that you have installed in your home, we are able to repair air conditioning & heating system units quickly and without hassle. Every system will need occasional repairs, but having a reputable professional will minimize the frequency and expense of these repairs. 
When the technician arrives at your home, they will diagnose the problem and give you recommendations for servicing or replacing the unit as needed. Our prices are always transparent and affordable, and there are no hidden fees or surprises. 
We are dedicated to working within our customers' schedules. We offer appointments all day until 10 pm, giving our customers a wide range of choices. In addition, we guarantee on-time arrivals within small time frames, and if we are late, you do not pay. 
Calabash AC Services

Without proper maintenance on an AC unit, these systems can use up precious energy while failing to properly and evenly cool the home. Basic in-and-out tune-ups done by companies simply wanting to get the job done fast do little to efficiently revitalize the system. 
Our complete AC system rejuvenation process involves thoroughly cleaning plaque from the coils, installing a Crud Buster, lubricating moving parts in the system, replacing the air filter, running a 47-point diagnostic, installing batteries in the thermostat, and recalibrating the AC. The entire process results in a more energy-efficient unit that blows colder air more powerfully. Regular Revivalizations result in a much longer life for your unit. 
Heating Revivalization
Just as with our AC rejuvenation, our Complete Heating System Revivalization makes the system work more efficiently, makes it safer for the family, and expands the lifespan of the unit. Our technicians will clean the unit including the dryer vent, tighten the components, and lubricate moving parts. They will then install a new filter, perform a 52-Point Check, test safety sensors, replace batteries, and recalibrate the system. 
AC and Heating Replacement
There may come a time when your AC or heating unit reaches the end of its lifespan. When this happens, we are there to help you choose the best new heating and AC system for your home or office at a budget price point that you can afford. We offer free assessments and are always happy to give a free 2nd opinion if you are not satisfied with the recommendations of another company. 
As part of our Calabash ac services, we offer full installation of the unit of your choice, custom ductwork when needed, and oil to gas conversions. The technician tests the unit to ensure its proper function, and then the unit is registered properly in order to give the customer the benefit of the 10-year parts warranty. Every step of the way, we are concerned about the welfare of our customers. 
Mini-Split Air Conditioning Systems
One of the most convenient and affordable systems on the market is the mini-split AC system. These compact systems efficiently cool spaces that are up to 1,600 square feet without the installation of ductwork. With the positioning of a small external system, your garage, apartment, or man cave can receive the benefits of a large and expensive system at a fraction of the cost and space.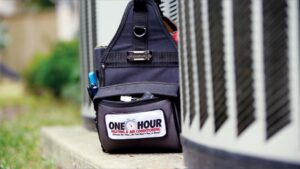 Air Quality
Heating and AC units that are filled with dust, mold, or other harmful substances can create a serious health problem for the entire household. The good news is that we are able to improve the indoor air quality in your home by using a few different services and tools. 
Crud Buster
Our "Crud Buster" is a drip pan that ensures that A/C pan does not overflow. It prevents the formation of bacteria, algae, and fungus on the inside of the unit.  
Ductwork Cleaning
Our technologically advanced duct cleaning system means that we do not release the dust and other pollutants into other parts of your home. Instead, we clean the tiniest spaces of the ductwork, resulting in superclean ducts that blow clean air into the home. 
Aeroseal Ductwork Sealing
Aeroseal duct sealing is the most efficient and foolproof method of sealing available, and we are the only ones in the Calabash area to offer this service. Aeroseal, which is a non-toxic substance, is used to seal more than 90% of leaks and holes.
Benefits for Select Customers
Our customers are at the heart of everything we do. That is why we have put together an exclusive club that offers amazing discounts, prices, and exceptional service. 
Our Comfort Club offers same-day service, annual system Revivalizations, first in line appointments, reduced fees, discounts, free crud busters, and more for a low monthly price. Choose from three different pricing tiers that vary based on the services needed. 
In addition to these benefits, club members also receive our exclusive 18 SEER system for a 14 SEER price deal. These systems are the best on the market, but you will receive it at a much lower price.
One Hour Heating and AC is passionate about providing the best service to our Calabash customers. Contact us today for a free estimate and to find out more about how we can help you.