Whether you're dealing with summer heat or winter cold, reliable, functional heating, and air conditioning system is essential. Residents of Burgaw, NC need their HVAC systems to work well right from the start, without costly and unexpected breakdowns. With our help, your heating and cooling system will be ready when you need it. Read on to learn about our full range of Burgaw ac services. Though there's never a good time for an HVAC system malfunction, we strive to make every service call work around your schedule. Just fill out our online contact form to schedule a Repair Air Conditioning & Heating System.

Burgaw HVAC Services
Burgaw AC Services

The team at One Hour Heating & Air Conditioning is here to help locals stay comfortable no matter the season. Regardless of the type of AC unit you have or the extent of the Burgaw ac services it needs, we are ready. If something goes wrong with your Burgaw ac services, simply call or email us. We will always:
Be on time. We're proud of our punctuality, and if our tech misses an arrival window, we'll cover the cost of repairs.

Inspect your system and diagnose any issues for only $99. 

Point out the issue and recommend budget-friendly repair options.

Help our customers choose the best option for their needs.

Resolve issues and guarantee your satisfaction.

Stick to the price we quoted. What you see is what you pay!
System Rejuvenation
Though many companies offer HVAC tune-ups, they're not all the same. Some providers just change the filter and vacuum the coils, but we take things a few steps further. Our complete AC system rejuvenation service package helps units of all ages blow colder air without any effects on efficiency.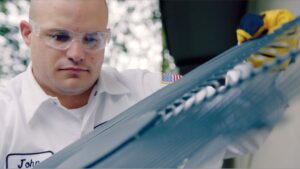 The process starts when we clean all the buildup from the unit's coils, which allows it to work more efficiently. Then, we'll use a Crud Buster to minimize overflow and odors in the drip pan. We'll lubricate the system's moving parts and put in a clean air filter before performing a thorough inspection and topping off the refrigerant if necessary. We'll wind things up by installing new batteries in the thermostat and returning the system to factory settings. These services are available for the low price of $127, so call to schedule your service appointment today.
System Installation
Though a new heating and AC system is a great option, it's not always the best one. Along with system installations, we offer free second opinions. Here, we'll assess the system's condition and make budget-friendly, unbiased recommendations. However, if you need a new system, we install all major brands, perform oil to gas conversions, and inspect new installations. Call us today to learn more.
Mini Splits
If you want to cool a shed, workshop, or garage efficiently, a mini-split AC system is a great choice. These systems can be installed in just a few hours because no ductwork is needed. These compact, energy-efficient systems can be had for just $50 on credit approval, and they offer a maximum 33 SEER rating for areas under 1600 square feet. The mini-splits are just one of the many Burgaw ac services we have to offer!

During our no-cost evaluation and estimate, we will measure the room. Then, we will perform a load calculation to find out which AC system size is best for space. We'll need your input on configuration and placement, and with it, you're sure to have a solution that's tailored to your specific needs.
Air Quality Improvement
Doors, insulation, and windows keep conditioned air in the house where it belongs. If your home's ducts are unsealed or dirty, it can cause serious air quality issues. According to the Environmental Protection Agency, the air in a home maybe 500% more polluted than outdoor air. Our indoor air quality improvement services remove viruses, mold, bacteria, dust, and other toxins from a home's heating and air conditioning system. Our whole-house cleaning methods remove more than 97% of airborne particulates, making the air you breathe much healthier.
Ductwork Cleaning Services
Even the highest-quality system won't work without clean ductwork. With our duct cleaning services, you'll eliminate toxins that would otherwise circulate throughout the home. Our proven methods and professional equipment do the job right. We'll clean the home's ductwork for less than $1500, depending on the system's size. It's an investment in your health!
Ductwork Sealing
About 30% of conditioned air escapes through cracks in the home's ductwork. Allergens, dust, dirt, and debris also get in through those holes. Not only does it cause you to lose money and comfort, but it also makes the home messier. Our Aeroseal duct sealing services eliminate even the smallest leaks, extending the HVAC system's life. We use only non-toxic materials, and the whole process can be completed in a few hours. Call us today to learn about more Burgaw ac services!
Join the Club
As busy as life gets in Burgaw, NC, it's easy to put Burgaw ac services low on your list of priorities. However, our Comfort Club makes things easier. As a club member, you will get perks such as yearly system revitalization, service discounts, and lower diagnostic fees. Join our club today and be more comfortable tomorrow.
Heating System Rejuvenation
Even the best systems will eventually struggle. Our complete heating system revivalization package allows units to work better and run stronger. Because the system will be returned to its original settings, it will last longer and be safer. Schedule your fall service call today!
Efficiency and Fair Prices
If you're a member of our Comfort Club, we've got a great offer for you. Call today to find out how you can get an 18 SEER system for a 14 SEER price. These efficient systems are quiet and can be controlled via WiFi. They come with one of the best warranties for Burgaw ac services, and because there's no deposit requirement, it's a great time for an upgrade. If you're not a member of the Comfort Club, contact us to find out how easy it is to join. We're dedicated to your family's health and comfort!