According to research carried out by YouGov, Americans prefer an average indoor temperature of 72 degrees Fahrenheit. Sixteen percent of Americans stated 75 degrees remains their ideal. When your heating or cooling system doesn't work properly, your ideal temperature doesn't matter, however. Your goal becomes to get it working again so it can either bring the temperature up to a more suitable level or down to one, depending on whether it is hot or cold outdoors. If you find your system in Brunswick, NC needs Brunswick ac services, call us. 
Our technicians remain available until 10 pm every evening to assist customers promptly. Also, we offer same-day service for Essential members when you request by 2 pm. What Brunswick ac services do we offer to ensure your comfort in your own home? 
Brunswick HVAC Services
Brunswick AC Services

AC systems receive a lot of wear and tear, especially when temperatures climb during the summer months. With the help of our complete AC system rejuvenation, customers find their unit blows stronger and colder air while using less energy to do so. Also, the system lasts for a longer period as it has been properly maintained. In the event we need to Repair Air Conditioning & Heating System components in your home in Brunswick, NC, we arrive on time, diagnose the issue, and make recommendations on repairs. Customers receive all options with their accompanying costs, so they decide what works best for their budget and home. 
The only price a customer ever pays is the one agreed upon when they authorized the repair. We don't surprise them with hidden fees when it comes time to pay the bills. If we don't show up on time for any reason, the heating or cooling repair comes at no cost to them.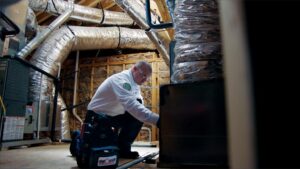 AC Replacement
Homeowners might find they need a new heating and AC system. Repairs will no longer keep it up and running. When this day arrives, contact us, and we'll come out to help you choose a replacement system. 
We offer pro installation for major brands and assist customers in need of custom ductwork and design. New install inspections ensure we do the job right, and we offer oil to gas conversions when a customer desires this service. 
Customers receive a free assessment of the system to determine if it needs to be replaced, and we offer free second opinions for those who have obtained a quote from a competitor. This ensures the system is no longer usable and a replacement must be purchased.
In certain situations, a mini-split AC system serves as the best option in Brunswick, NC. Homeowners frequently install these units in their garage, workshop, or she-shed, and we complete the installation process in less than a day. 
These units require no ductwork and come with a tiny footprint. They work in areas up to 1,600 square feet and are super-efficient, making them the perfect choice for those who don't want to spend a lot of money to remain comfortable. 
Ask about payment plans offered with this unit and learn how a unit can be installed in your home with no interest and no payment for 12 months with approved credit. 
Homeowners opting to take part in the Comfort Club find they can receive an 18 SEER system for a 14 SEER price. This ultra-efficient 18 SEER energy-rated system offers quiet operation and can be controlled by Wi-fi. Adjust the temperature when you are away from home if this system is present in the home. 
The unit comes with a top warranty and qualified homeowners find they pay zero down and less than $100 a month for a brand new energy-efficient system that keeps them comfortable in their own home. 
Breathe Clean Air
Indoor air quality in Brunswick, NC concerns many, as the EPA states indoor air is two to five times dirtier than the air we breathe outside. Nobody wants to breathe in mold, pollen, toxins, viruses, bacteria, and dirt, but people do every day without even knowing it. Standard air filters cannot remove tiny molecules that remain harmful to human health. 
UV germicidal lights prevent this from happening along with the Crud Buster. In addition, our technicians know how to eliminate stinky air in the residence. Customers simply need to ask and we'll explain the benefits of each Brunswick ac service. 
Duct cleaning offers another way to introduce clean air into the home. In the past, HVAC technicians used a roto brush or other tool to sweep the interior of the ducts. This accomplished nothing more than spreading contaminants around. 
We super clean the ducts, making use of advanced techniques, high-tech equipment, and safe cleaning agents to remove contaminants throughout the ductwork so you can breathe easier. 
We assist clients in Brunswick, NC with aeroseal duct sealing. Using duct tape or masting paste to seal ducts is messy, inefficient, and not very effective. The sealing process also only works on those ducts that are visible. 
When we aeroseal your ductwork, these problems disappear. It seals the ducts from the inside and provides a superior seal. 
Heating System Repairs
Certain homes have separate heating and cooling systems, although they are becoming less common. If your home falls into this category, call on us for a complete heating system revivalization or repairs. We work on all heating systems and offer the same repair services for heating systems as we do for AC units. All you need to do is ask. 
Special Offers 
Consider joining the Comfort Club to save even more. Members receive annual system revivalizations, a free Crud Buster, repair discounts, and more. Becoming a member also means you move to the front on the line when you need service. Check it out today. 
An ounce of prevention continues to be worth a pound of cure. Your AC and heating systems ensure your comfort in the home. Don't neglect them.
We are here to help you keep them up and running. Contact us today to learn more about our services. We answer questions you have and address any concerns, as your satisfaction is our goal.