No matter the season, a functional and efficient HVAC system is a necessity here in Florence, SC. Area residents rely on their heating and air conditioning systems to work right the first time, and a sudden breakdown can be inconvenient and costly. With help from the pros at One Hour Heating & Air Conditioning, your system will be ready to go, right when you need it. Below are just a few of the Florence ac services we offer.
Heating and Air Conditioning Repair Services
Our HVAC experts are ready to help customers in and around Florence stay comfortable. No matter what kind of repairs you need or which type of unit you have, we're prepared. If there's something wrong with your cooling or heating system, simply contact us by email or phone and we'll fix it (even if we didn't install it). We promise to: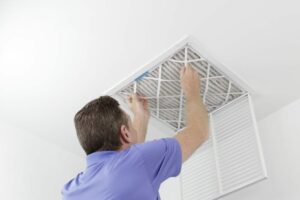 Be punctual. We pride ourselves on arriving on time, every time. If our technician misses an appointment for any reason, we'll do the repairs at no charge. 

Diagnose the system's issues and perform a thorough inspection for just $99.

Show the problem, recommend various

repair

options, and explain the costs of each of those choices.

Help you choose the repair option that suits your needs and budget.

Resolve the issue to your satisfaction.

Charge only the price you agreed to pay.
We want to make your next service experience as convenient as possible, and that's why we will repair your heating & air conditioning system until 10 pm. We'll work with your schedule! Simply request an appointment through our simple online form and get ready for an unforgettable experience.
Florence AC Services
HVAC System Revivalization
Not all HVAC tune-ups are created equal. Some companies simply clean the coils, change the filter, and call it a day. However, that's not how we do things here at One Hour Heating & Air Conditioning. With our complete AC system revivalization package, we'll help your unit blow colder, stronger air, all without sacrificing energy efficiency.
We'll start by cleaning all the burnt-on plaque from the system's coils, so it will work more quickly and efficiently. Then, we'll put one of our Crud Busters in the drip pan to reduce odors and minimize overflow.  We'll lubricate the unit's moving parts and install a fresh air filter before conducting a detailed inspection and refilling refrigerant (if required). We'll finish up by installing a fresh set of batteries in your thermostat and recalibrating your HVAC system back to factory specs. You'll get all this for just $127, so schedule your appointment today.
New System Installation
Though we've made a name for ourselves by installing new HVAC systems, that's not the best option in every case. We also offer no-cost second opinions, where we'll honestly assess the condition of your unit and make unbiased, cost-effective recommendations. However, if a new heating and AC system is what you need, we offer professional installation of all well-known brands, custom ductwork, oil-to-gas conversions, and inspections on new installations. Call or click to get started!
Mini Split Systems
If you're looking for an energy-efficient way to heat or cool a workshop, shed, or garage, a mini-split AC system may be just what you need. We can install a new system in less than one day, with no ductwork required. These efficient, compact systems are available for only $50 per month with approved credit, and they provide up to a 33 SEER rating for rooms 1600 square feet and under.
During our free estimate and evaluation, we'll measure the area to be heated or cooled. Then, we'll do load calculations to determine which system size will suit the space. We'll work closely with you on placement and configuration, so you'll have a heating and cooling solution that's truly customized to your needs.
Air Quality
In the search for increased energy efficiency, modern insulation, doors, and windows keep air out (and in). If your ducts are dirty or poorly sealed, it's a real problem. According to the EPA, the air inside your home may be up to five times more polluted than the air outdoors. With our indoor air quality services, we'll remove the pollen, viruses, bacteria, mold, dust, and other pollutants from your home's HVAC system. Our whole-home air cleaning methods remove upwards of 97% of harmful particles, allowing the entire family to breathe just a bit easier.
Ductwork Cleaning
Even the most efficient HVAC system is useless without clean ducts. Let us help you get rid of the toxins that are circulating throughout your home. With our proven duct cleaning methods and advanced equipment, we'll get the job done right the first time. We'll thoroughly clean your home's ductwork for $500-$1500, depending on the size of the HVAC system. Consider it an investment in your family's health!
Duct Sealing
Up to 30% of your home's cooling and heating may escape through holes in the ductwork. Worse yet, debris, allergens, and dust are coming in through those openings. Not only will you lose conditioned air (and money), you'll also have to deal with dusty furniture and inconsistent indoor temperatures. Thankfully, we have a solution.
With our Aeroseal duct sealing service, we'll seal even the tiniest leaks from the inside out. Leakage will be reduced by more than 90%, which will help to extend the system's lifespan. Aeroseal is made from non-toxic materials, and the entire process takes less than a day with minimal cleanup required. You'll feel a difference right away! Schedule an estimate to learn how you can stop wasting your hard-earned money.
Join Our Club
As busy as life gets, it can be easy to let HVAC maintenance fall by the wayside. However, we're making things just a little easier. As a member of our Comfort Club, you'll receive benefits such as annual system rejuvenation, priority service, reduced diagnostic costs, repair discounts, and no-cost Crud Buster installation. We also offer discounts on new equipment, free thermostat batteries, and same-day Florence ac service. Join the Club today and enjoy lower energy bills and improved home comfort!
AC System Revivalization
Eventually, even the best heating system will start to run inefficiently. With our complete heating system revivalization, your unit can run stronger, blow warmer air, and work more efficiently. Because it's recalibrated to factory specifications, your system will be safer, and it will last longer. We don't do short, ineffective tune-ups here, and we invite you to schedule your next service appointment today.
Efficient Systems at a Budget-Friendly Price
If you're a Comfort Club member, we've got a special deal for you. You'll get an 18 SEER system for a 14 SEER price! These systems are incredibly efficient, extremely quiet, and WiFi controlled. They come with one of the industry's best warranties, and with no down payment required, there's never been a better time for an HVAC upgrade. Not a Comfort Club member yet? Call us to find out how easy it is to get started!